"Satsuki Shibano`s Profile"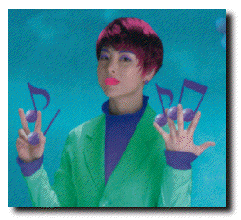 (photo : Izumi Asano , CG : Chie Mimura)
Pianist, well known Erik SATIE player, dedicated to the creation of another world out of classical music.
1979
Went to France to study under pianist Jean-Joel Barbier, one of the world's foremost Erik SATIE interpreters.
1981
Made her debut concert in Paris.
1982
First album "Erik SATIE".
1987
Second album "Satsuki Plays Satie1,2".
1991
Third album "Rendez-Vous" featured rock musician Pascal Comelade. Her quest to create her own musical world began with this album.
1992
Fourth album "Music for Furniture".
She supervised music books "Erik SATIE 1,2" with Jean-Joel Barbier.
1993
Fifth album "Le Souffle Informe" featured musician/composer Scriabin.
Collaborated with Holger Czukay , Simon F Turner, Derek Jarman, David Cunningham and John C Lilly in the compilation CD "Silence."
1994
Supervised music books"Erik SATIE 3,4" with Jean-Joel Barbier.
Collaborated with Yoshio Ojima on albums "CARESSE" and "ELEMENTE".
1995
Sixth album "Songe Creux".
Video Tape "Erik SATIE".
1995
Seventh album "Feuillet d`Album".
---


Return to Home Page
---
Copyright(c) 1997-2000: Ojima Office Co.,Ltd. (chainon@db3.so-net.ne.jp)